December 12 2009 Categorized Under: Cell Phones Tags; android, Android 2.1, google, Google phone, gPhone, gsm, Unlocked phone 3 Commented
It turns out that TechCrunch and Arrington were actually right! And let's face it, we did want to be true. Yes, the Google phone is alive and well. Google has just confirmed that they do have an Android device in distribution amongst employees all over the world. Although, if you read their post you won't find much to talk about.
According to the Google Mobile team, they are distributing an Android device for "dogfooding". They also apologize for the fact that they cannot distribute this device at this stage but they will be bringing it out real soon. And now let's shift to what TechCrunch and Arrington have to  say.
Arrington was the first to claim insider info on this one and even though there were a lot of skeptics, he has come out the winner this time. Google often tests out Android handsets and they usually don't talk about it. It's just your routine check. But this time, they are talking about it.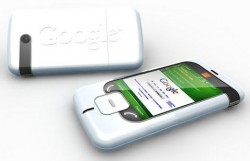 Google went to great lengths to promote the Droid, (arguably) the best Android handset so far. They gave it a spot on their famous home page. But I don't even the Droid was distributed to "Google employees across the globe". If they have gone this far, it has to be — a) something pretty big and b) something that is pretty close to Google's heart. And what could be closer to the Mobile Team and to Google than the culmination of Google's vision of the perfect phone.
Much as manufacturers claim that they are not copying from Apple, certain things are always attributed to Apple because they have shown the world exactly how and how well it can be done. Controlling your own hardware and its software is something that can readily be attributed to Apple. Google has chosen this exact path when making the Google Phone.
The Google phone will be made by another manufacturer with heavy inputs from Google. According to Arrington, this company is HTC and the phone will be a custom version of the HTC Bravo/HD2. Yes, that means this phone will have Snapdragon breathing fire down the pipes. So start thinking fast, really fast. As talked about earlier, Google will not make any compromises on this one.
So the very best of mobile computing is being used. Other than the Snapdragon, the phone will also have an OLED screen with a really high resolution and a very crisp display as a result. A quirky feature of the phone is that it has two mics. One is for the uses that you are familiar with on a phone and the other is for what technically 'Active Noise Cancellation'. At least, that's what it sounds like it is doing.
This second mic picks up the ambient noise around and cancels it out so that your voice and the voice on the other end, are as clear as possible.
Also, the phone has a slightly large camera. Apparently it is larger than your usual phone camera. If you put this and the last quirk together — it seems like Google is really emphasizing on the quality of your communication experience, no matter how you do it. If you ask me, voice and video calls of all manners will be really, really good over this device.
And then come the best news of them all. Google is not going to make the same mistake Apple did — they are not going to lock the phone! This phone, which will be a GSM device will be available directly from Google and retailers. The OS running will be Android 2.1. Sweet! I am sure no other phone in the market (except perhaps the Droid) will have the 2.1 when this comes out.
According to Arrington, the phone was supposed to come out this holiday season but then it got pushed back to early 2010. Now the time frame apparently is January 2010.
The phone will carry only Google's branding and no one else's, not even the manufacturer's. Carriers can choose to carry I suppose but it really won't matter. People will simply buy unlocked phones and choose their poison carrier. But the question of a carrier will come in if there is a steep price involved. Carrier subsidy can work great to help a device get its foot in.
But here I have a theory. It is pure speculation and it might not come true but, Google can afford to subsidize the phone themselves. They don't need anyone else to support it. Their revenue is from the ads and we all know that Google gives away Android for free and actually pays manufacturers to use their version of Android because they earn a great deal from the ad clicks that these phones generate.
So if Google can think up a way to integrate some ads into some specific areas of the device, this might work after all. We can trust Google to come up with subtle and useful ads, even if it means using words from private emails to serve up relevant ads!
I would really like for this to happen because all the Snapdragon devices are prohibitively expensive when bought unlocked. Google can really hit the spot with an Internationally available, cheap, Snapdragon Android phone.
Even if they don't, we may still be looking at a potential revolution about to happen.
-
Now lets get to the Elephant in the room. What happens to Google's partners? The one's who made so many Android phones? Well, may be they can choose to step up their game right now. Google practically saved a lot of them from certain death when the iPhone was threatening to have them as a light evening snack. Let's face it — no one had anything that could compete with the iPhone OS. The hardware is not what makes the iPhone the iPhone you know. Also, Google gave it away for free.
But may be they got tired of watching these manufacturers progress at a snail's pace. They have always had the vision of the perfect modern phone and now they are almost done making it. With the iPhone expected to get one or more major upgrades next year and more great phones expected to be released, this is going to be pretty interesting.
Watch this space.
People Have Also Been Looking For:
google logo - does google have a phone - does google have a phone? - does google have a phone out - does google have phone - will google have a phone - gadget logo - the 6 android phone they made - How many phones does google have - what does the google phone have on it - dose google hav a phone - does google have phones? - does google have a phone coming out - does googke have a phone - does goggle have a phone # -